Descaling machine shot blasting machine shot blasting machine shot blasting machine Q034 shot blasting machine imported shot blasting machine Product introduction:
由江苏英达机械有限公司精心设计制造,公司拥有精湛的技术和服务,在抛丸机行业有着近四十年的生产经验。 The rust removal machine Q034 shot blasting machine is carefully designed and manufactured by Jiangsu Yingda Machinery Co., Ltd. The company has superb technology and services and has nearly 40 years of production experience in the shot blasting machine industry. It has advantages in price, pre-sale, sale, and after-sales service. Welcome new and old customers to inquire or come to negotiate. 小时客服热线:400-690-2006 移动电话: 13505113250 24- hour customer service hotline: 400-690-2006 mobile phone: 13505113250
规格型号有:Q034、Q035、Q036等,根据功率有 7.5千瓦、11千瓦、15千瓦、22千瓦等,抛丸器是抛丸设备的关键部位,它是由叶轮、定向套、分丸轮、叶片、进丸管等组成。 Descaling machine shot blasting machine specifications and models are : Q034, Q035, Q036, etc., according to the power of 7.5 kW, 11 kW, 15 kW, 22 kW, etc., shot blasting machine is the key part of the shot blasting equipment, it is the impeller, orientation It consists of a sleeve, a dividing wheel, a blade, and a feeding tube.
用途:广泛应用于铸件、锻件、结构件、板型材、有色合金件的表面清理及处理以及齿轮、弹簧等的表面强化。 First, the rust remover Q034 shot blasting machine uses: widely used in castings, forgings, structural parts, plate profiles, non-ferrous alloy parts surface cleaning and treatment, and surface strengthening of gears, springs and so on. This shot blasting machine is a novel and multifunctional shot blasting machine. Compared with other shot blasting machines, it has the advantages of beautiful appearance, simple structure, convenient production and maintenance, and low noise.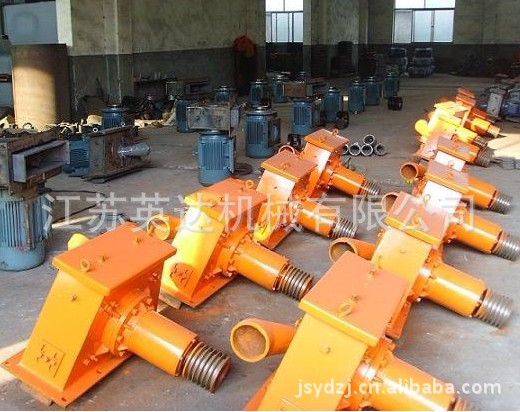 清砂机抛丸器 特点 : Second, the characteristics of our company's sand blasting machine :
1. A projectile can be used to apply highly concentrated energy to the surface of the workpiece being cleaned by shot blasting, which is converted into a strong impact force on the surface of the cleaned workpiece.
2. The blade of the shot blaster is inserted from the center of the wheel. During work, the blades are fixed by the action of centrifugal force without any fixed fixtures. It only takes 10-20 minutes to remove 8 blades. In addition, this series of shot blasters can also check the wear of the split wheel and directional sleeve while removing the blades.
3. The spindle base of the shot blasting machine is directly connected to the guard, and the blasting machine can be quickly replaced as a whole during maintenance, which is especially suitable for continuous cleaning equipment.
1)、叶轮双圆盘采用耐磨材料制作,工作时保持高度的动平衡。 ( 1) The impeller double disc is made of abrasion-resistant material and maintains a high degree of dynamic balance during work.
使用寿命。 (2) The projectile acceleration and protection parts are made of special wear-resistant cast iron, which can ensure the service life.
)、和叶片同步旋转的分丸轮使弹丸产生的加速保证了弹丸向叶 片的无振动传递,从而减小了对叶片的磨损。 (3 ) The speed of the projectile produced by the pelletizing wheel rotating synchronously with the blade ensures the vibration-free transmission of the projectile to the blade , thereby reducing the wear on the blade.
技术参数见下表: The technical parameters of the shot blasting machine are shown in the table below:
以上参数仅供参考,具体以实际为准。 Note: The above parameters are for reference only, and the actual conditions prevail.
1976 年,是集 研发、设计、制造、销售及安装服务于一体的高新技术企业。 Jiangsu Yingda Machinery Co., Ltd. (formerly Dafeng Foundry Machinery General Factory) was established in 1976. It is a high-tech enterprise integrating R & D, design, manufacturing, sales and installation services. 40 年,获得二十多项产品专利, 主要生产金属表面清理机械设备、砂处理造型成套设备等机械行业的七大系列产品。 Jiangsu Yingda has been engaged in the research and development and production of surface treatment equipment for nearly 40 years, and has obtained more than 20 product patents. It mainly produces seven series of products in the mechanical industry such as metal surface cleaning machinery and equipment, and sand processing modeling equipment. 船舶、 工程机械、冶金 、军工、医药等领域。 Products are widely used in railways, automobiles, ships, construction machinery, metallurgy , military industry, medicine and other fields.
通过ISO9001:2008质量管理体系认证、ISO14001:2004环境管理体系认证。 The company took the lead in passing ISO9001: 2008 quality management system certification and ISO14001: 2004 environmental management system certification. 先后取得了网带通过式抛丸机、新型机械回收喷砂房、辊道通过式重钢抛丸机等二十多项产品专利。 With a professional technical team, it has obtained more than 20 product patents such as mesh belt pass-through shot blasting machine, new mechanical recycling blasting room, roller-pass type heavy steel shot blasting machine and so on. 或阿里诚信档案 ) (Note: For details of all product patents and all certificates, please refer to the official website of the enterprise: http://ywl66.com/ or Ali Chengxin Archives )
The company adheres to the tenet of "innovation and intent to build", adheres to the principle of "honesty and responsibility", is committed to using technology to provide customers with a better experience and service, and grows with customers to achieve win-win. The product structure and business scope are diversified, serialized, and grouped. The products are exported to various places, and some are exported to Southeast Asia, West Asia and other places.
Some cooperation customers



0515-83752966 Company phone: 0515-83752966
13505113250 Mobile phone: 13505113250
400-690-2006 24- hour customer service hotline: 400-690-2006
2240629543 QQ : 2240629543
: http://ywl66.com Corporate website : http://ywl66.com
http: // www.ydpwj.com
http://jsydzj.1688.com/ Enterprise Wangpu: http://jsydzj.1688.com/
Address: Dalong Street, Xituan Town, Dafeng, Yancheng City, Jiangsu Province
http://me.1688.com/jsydzj.htm Enterprise Blog: http://me.1688.com/jsydzj.htm